Description
BR660T is a heavy duty security gates that can support up to 6-meter arm with slow steady 6 sec opening speed. BR660T is ideal for an industrial factory that requires the widest entrance in order to accommodate the big truck. BR660T new BlueSpeed motor technology reduces maintenance cost. BR660T new NLS positioning and improved dual spring engine to achieve smoother motion.
BR660T modern grey concept effectively increases the premium prestigious impression of guard house entrance. Telescopic design shortens arm length for easier transportation.

Heavy Duty Industrial Security Gates
Are you looking for a barrier gate that supports widest entrance opening, looks good at your premium guard house but out of the budget to buy imported European brand? You searched many European brands and most of the heavy duty security gates you found are very expensive with a huge bulky design that looks ugly at your factory entrance.
You also worried about the spare parts as it might take 2-3 months to import from European country despite expensive shipping cost. You looked for lower cost alternative from other "no-brand" supplier but you are not confident about their product quality and backup service. You suddenly realized that making the purchase decision for barrier gate does not seem as easy as it looks.
BR660T can help solve this problem. BR660T heavy duty motor is designed to open and close 6-meter arm effortlessly at slow speed 6 sec. With 2 units BR660T installed facing each other; we can achieve maximum 12-meter space clearance at the entrance. BR660T slim modern grey design does not look "big and bulky". Internal motor and gear is fabricated using new improved alloy formula so that BR660T can work harder and work longer for you.
Following are some new technology highlight for BR630T. Please click to find out more info about our new technology.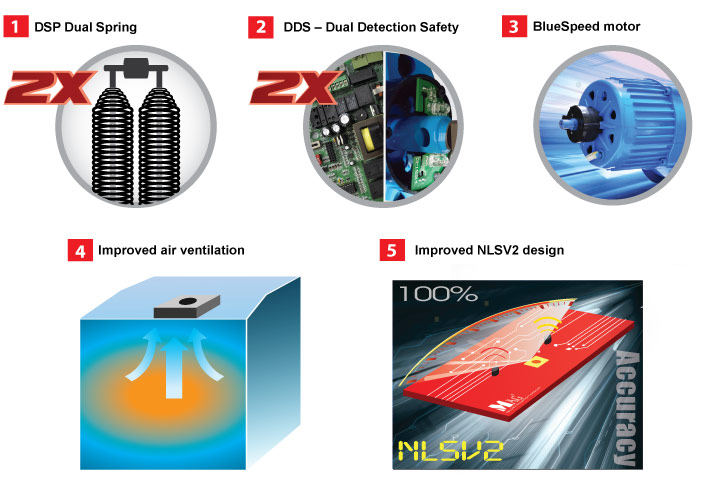 MAG offer the same full spare parts support for BR600T series as in BR500 series. MAG barrier spare parts are available from our local factory at an affordable price. Good spare parts availability is important to ensure your barrier gate is up and running in the shortest time possible in the event of break down.